GIVE YOUR HAND AN EDGE OF STEEL
The new SHARK Karambit: awsome, safe, legal and effective tool for survival and self-defense. It has been developed by undercover agents and close protection experts and is an ideal concept for tactical use - security agents, military, security operators etc. The KARAMBIT is a highly effective knife-type from Southeast Asia; find out more about karambits here The SHARK karambit is a special design in order to optimize the use of the karambit for LEGAL and DEFENSIVE purposes - design registered at patent authority in Germany. SHARK-Infos auf Deutsch...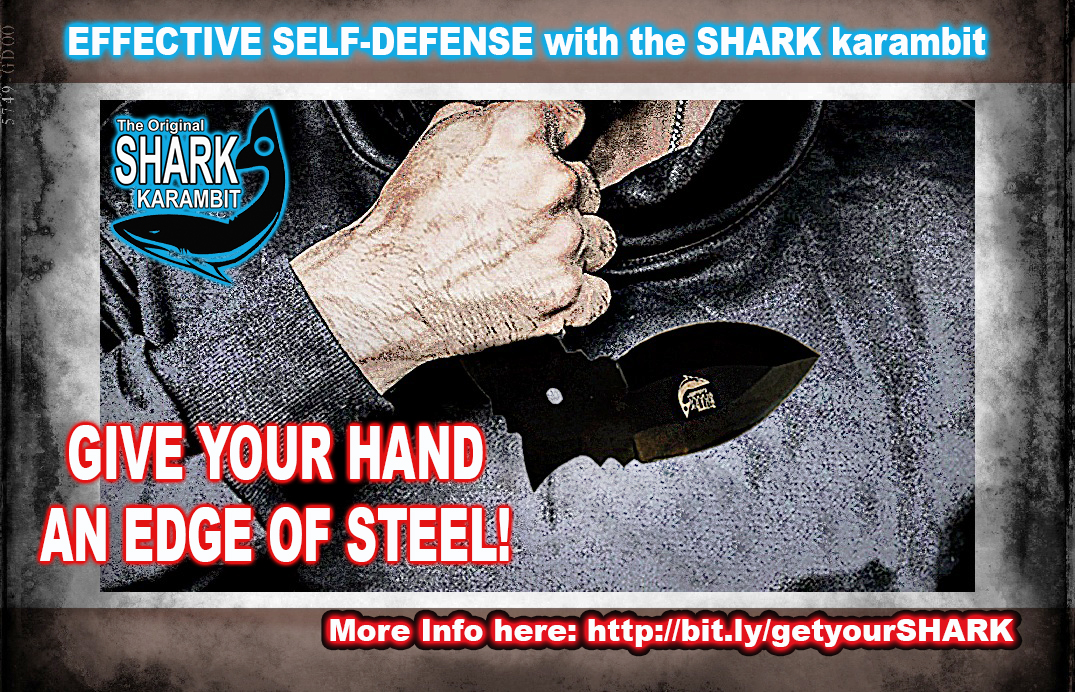 SHARK karambit Survival & Defense Tool
Because you don't know if you're gonna get a SECOND CHANCE:
EFFECTIVE

We believe the SHARK Karambit is the perfect knife for your self-defense: it is lightning fast, highly effective and can be combined with any fighting system.

Extremely Versatile

The Shark allows you to block, stab, slash, cut, saw, hold and pin down, grab, hack, strike, and you can even throw it with great accuracy. Use it tactically, in survival situations, and for personal defense.

Legal

SHARK Striker is NOT a knife and has been designed for DEFENSIVE purposes, but it offers excellent protection and an EDGE of STEEL for your hand.
Optimize your self-defense abilities
The SHARK karambit will give your hand an INSTANT STEEL EDGE... just imagine the blocks you use to stop an attacker but with a razorsharp steel edge! The SHARK will definitely stop an attacker in his tracks...More videos and pics on Facebook...
>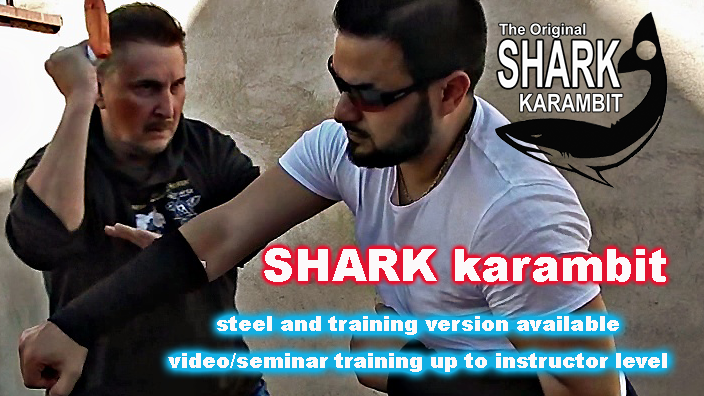 SHARK training
Make the SHARK your no.1 defense tool and/or backup weapon. We offer you top-of-the-shelf training - from beginner up to instructor level. If you want high-grade training in the use of this awesome defensive tool, or if you'd like to organize seminars with us at your town or school, contact us any time!
Do you run a self-defense school or are you selling self-defense equipment?
The SHARK karambit will be a great addition to what you are offering your clients now. We welcome inquiries by partners, schools, retailers, online shops etc. Do contact us any time.
The SHARK team
says THANK YOU for your interest!
We are convinced, if you are interested in the best possible self-defense, that the SHARK Karambit will LITERALLY GIVE YOU AN EDGE over any attacker... - in fact: an EDGE OF STEEL for your hand. PLEASE CHECK OUT THE SHARK STRIKER HERE...
The SHARK is the perfect device for your tactical close combat, as well as for personal defense. Anyone can use it as it is totally intuitive. Men and women alike will be able to defend themselves safe, efficient, and legally sound - against armed and unarmed attackers. The SHARK is inconspicuous, lightweight, can be carried all day long.
Contact
Brillstein and Cobra Systems LC
30 N Gould St, Sheridan Wyo 82801 USA
Email : marketing@cobra-systems.com
SHARK-Infos auf Deutsch...